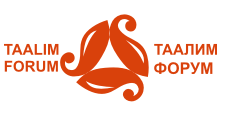 Taalim-Forum Public Foundation
For the last ten years Taalim-Forum is promoting eco-education in schools and local communities of Kyrgyzstan. The work includes teachers' trainings, workshops, summer schools, developing methodologies and interdisciplinary courses, publishing books, and organizing eco-actions.
Environment Education
Workshops 
Publishing
Taalim, meaning "education" in the Kyrgyz language, reflects the mission of our organization, which is aimed at supporting educational initiatives and developing interdisciplinary approaches in teaching and learning.  We promote this through partnerships with a network of regional and international organization. Forum refers to an open ground for all interested groups and individuals to share and exchange ideas and views on a variety of educational issues. We spread innovative methodologies in teaching and alternative pedagogies through conducting seminars, forums, round tables, and exhibitions; though issuing and distributing scientific and educational publications, methodological handbooks and other printing materials; by developing interdisciplinary study courses, and projects for the development of leadership and organizational abilities and research skills; and by establishing educational and research resource centers, and educational associations.